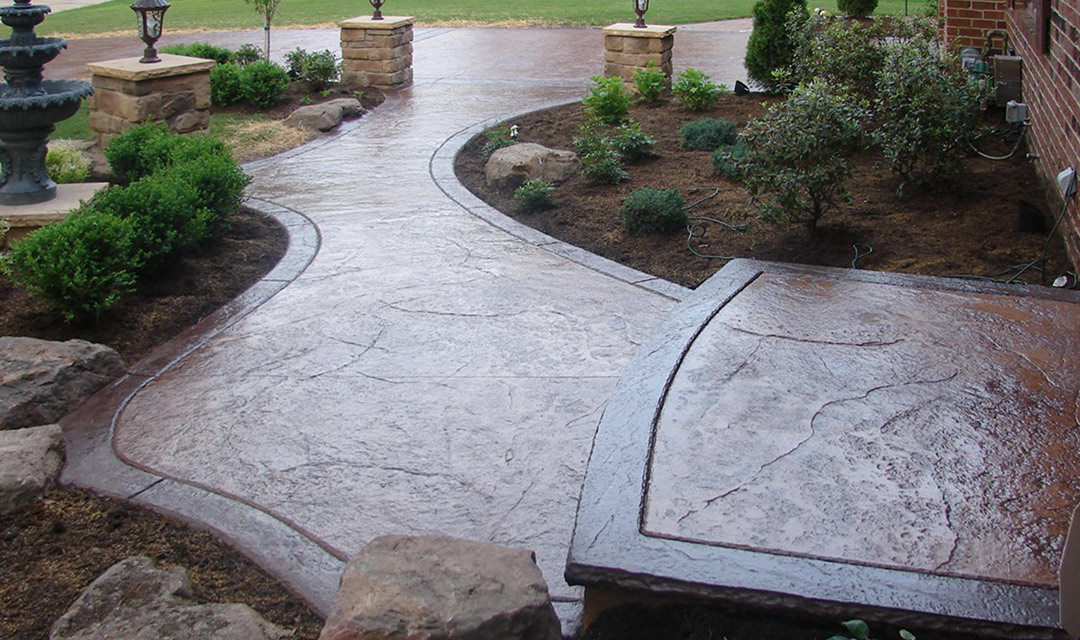 Stamped Concrete: Add resale value and a conversation piece to your home!
Need Stamped Concrete in Colorado Springs?
Concrete is the perfect canvas to create classy looking driveways, patios, pool decks and walkways. Now you can give your home that Mediterranean resort look using a stamped concrete design. Stamped concrete is becoming a popular choice for many homeowners because it offers a wide range of decorative options which include varying designs and colors. Cost effective and aesthetically pleasing, you can create driveways that mimic the look of stone, tile, brick and even wood.
Benefits of Landscaping with Stamped Concrete
Another benefit to using decorative concrete is, you can match your driveway or patio to your home's color or theme, as well as to other elements of your property. With a stamped concrete driveway, you can turn that slab into another feature of your landscaping. With the numerous color options and designs available to pick from, you can create a custom look that is unique and beautiful.
An economical alternative to pavers and natural stone, another benefit to stamped concrete is there is little to no maintenance. A good power washing every now and then is all you need to clean away grime and dirt. And, as there are no seams or joints, weed growth is not a problem you have to contend with using stamped concrete.
Professional Stamped Concrete Installation and Design
In many cases, stamped concrete can even be more durable than standard concrete. It's important to have a professional properly install the stamped concrete. They have the knowledge and ability to properly level the ground and foresee any challenges. This is due in part to the use of a color hardener. When a color hardener is applied to the surface of the concrete, another layer of strength is added it. Different than integral colors, that is color mixed into the concrete before pouring, color hardeners not only make colors more vibrant and strengthen the concrete's surface, they also make the surface more resistant to abrasion and water penetration. Also used to protect concrete is a sealer. In addition to protecting your concrete against deicing chemicals, grease and oil stains, and other harsh substances, a good sealer can enhance your concrete color choice and protect it from fading due to UV exposure. Properly prepared, installed, and treated, a stamped concrete surface will stand up to the varied and often extreme weather Colorado Springs contends with, and last decades.
The versatility offered with a stamped concrete surface makes it the perfect outdoor paving choice. Multiple concrete designs and color options allow for an unlimited number of choices available to customize your concrete surface. A cost-effective replica of more expensive materials, stamped concrete provides a natural and authentic look, and is a great way to lend value to your home with its customizing features.
Contact Landscape FX today for a quote on a stamped concrete driveway, patio, courtyard, or other outdoor living surface, and let us help create a custom home look for you in Colorado Springs.
Want to learn more? Complete the
form below or call us at (719)439-3169!
Thanks for a great year! Unfortunately we are completely booked through the end of December. We hope you will contact us in 2023!